Towards Gender Equality in FDI (TGEinFDI) is a global initiative to draw attention to and further advance gender equality in the field of economic development, FDI and investment promotion. TGEinFDI is an international platform for practitioners, executives, and scholars to exchange ideas and best practices, share news and achievements, as well as unite and initiate collaborations on gender equality in the context of economic development. TGEinFDI aims to provide helpful and practical resources and inspiration for investment promotion agencies and FDI specialists across all continents. Coordinated by FDI Center, TGEinFDI activities include a monthly newsletter, an interview series, digital and physical events such as community meetings and more planned for and with the global TGEinFDI community. This initiative is a collaborative effort, where contributions from community members and exchange are highly welcome and encouraged. 
Why is gender equality in FDI important?
Gender equality in FDI is important for both the host and home countries of FDI, as well as for the global economy and society. Here are some of the benefits of gender equality in FDI: 
Economic growth

: Gender equality in FDI can increase the

productivity, efficiency, and competitiveness

of firms and sectors by tapping into the diverse talents, perspectives, and experiences of women.

 

Social welfare

: Gender equality in FDI can improve the

health, education, and well-being of women

and their families by increasing their income, autonomy, and access to resources and services.

 

Innovation

:

Gender equality in FDI can foster innovation

by bringing new ideas, solutions, and products to the market that address the needs and preferences of different groups of consumers.

 
Author's visualization of the Towards Gender Equality in FDI initiative's components.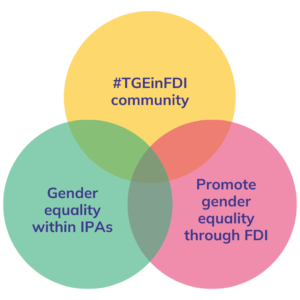 What are the challenges and opportunities for achieving gender equality in FDI?
There are many factors that affect the relationship between FDI and gender equality, such as: 
These factors can create gaps or trends in FDI and gender equality that need to be addressed or leveraged by the sector itself. 
How can you join the TGE in FDI initiative?
If you are interested in joining the TGE in FDI initiative, you can: 
The TGE in FDI initiative is open to anyone who is interested in the intersection of gender and foreign direct investment. Whether you are an IPA, an economic development organization, a foreign investor, or a government official, you are welcome to join the initiative and contribute to its vision and mission.